Pennsylvania's Telephonic Psychiatric Consultation Service Program (TiPS)
TiPS is a new HealthChoices program designed to increase the availability of child psychiatry consultation to primary care providers and other prescribers of psychotropic medications, for children who have Medical Assistance in PA. Through TiPS' real-time peer-to-peer resources, pediatricians and family doctors can help children and youth (up to age 21) with common mental health conditions.
How did TiPS come about?

Pennsylvania adopted the TiPS program based on a model being used in other states across the country. TiPS addresses a growing problem with access to child psychiatry. As behavioral health issues among children increase and the workforce diminishes, primary care providers often meet children's behavioral health needs although they may not be prepared to do so.
TiPS Teams
Each HealthChoices zone has a designated TiPS team, ensuring access to quality services in the appropriate setting. TiPS teams can help connect physicians to appropriate care for youth who may need further psychiatric care that cannot be addressed in a primary care setting.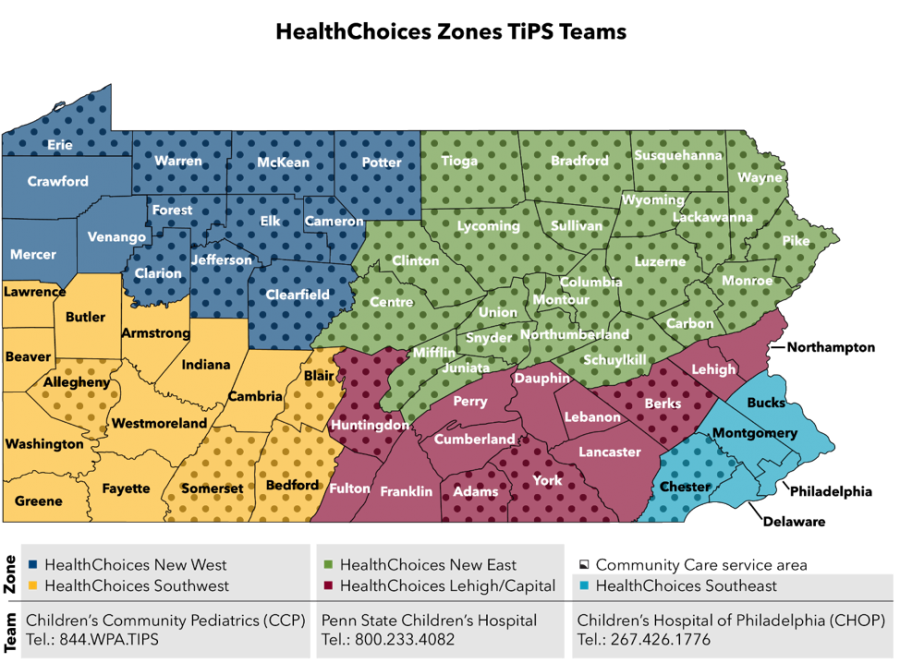 TiPS team members include:
Child psychiatrists
Licensed therapists
Care coordinators
Administrative support
Core services include telephone and face-to-face consultation, care coordination, and training and education.
TiPS is free for all prescribers of psychotropic medications for individuals up to age 21.