Minority Mental Health Awareness Month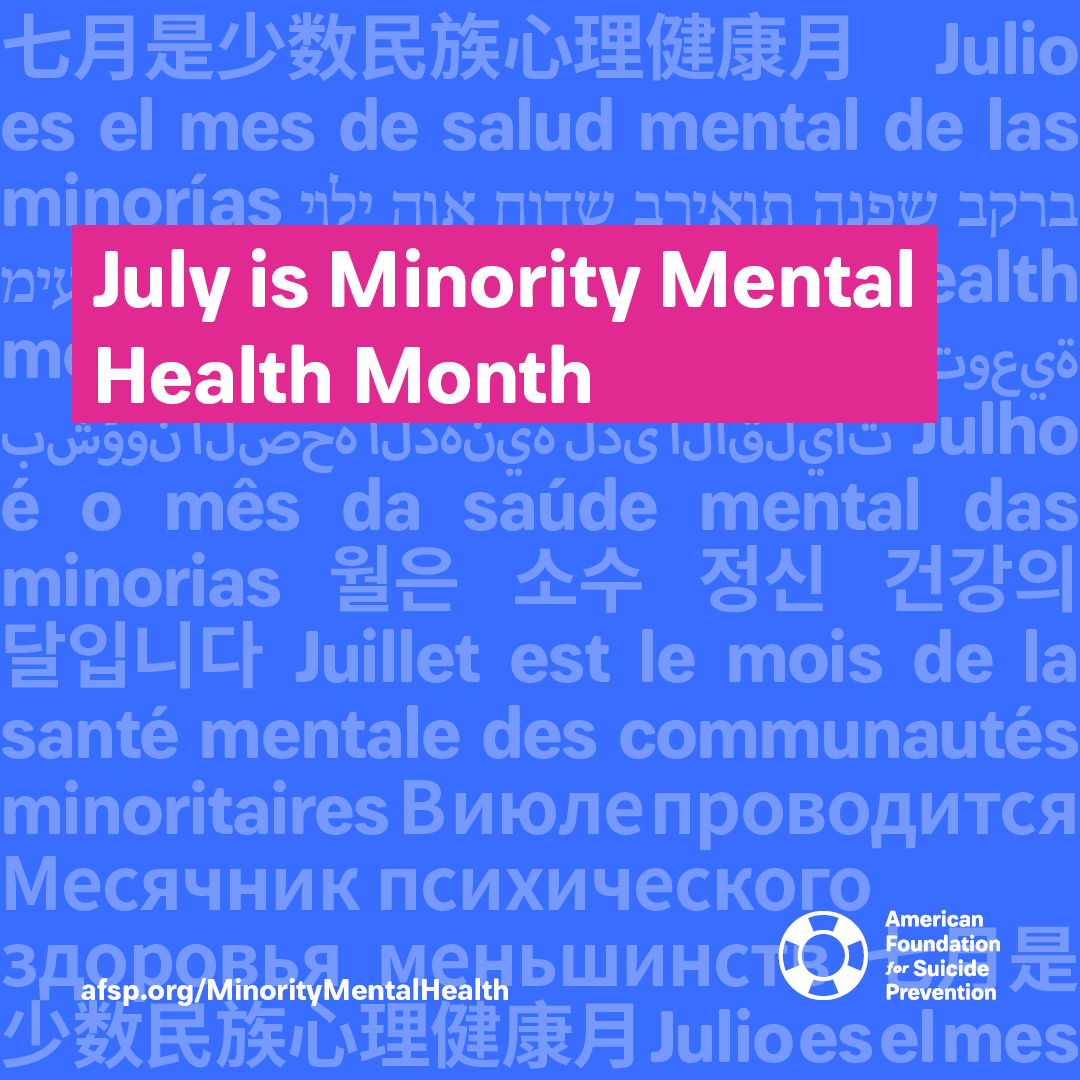 Minority populations experience physical and behavioral health disparities. These factors, coupled with racial injustice and the COVID-19 crisis, have heightened risks. Adults and children in minority populations are being faced with unprecedented behavioral health challenges.

"As we continue to observe Minority Mental Health Month this July, I would like to highlight the importance of suicide prevention," says Dr. Matthew Hurford, President and CEO, Community Care. "Sadly, suicide disproportionately impacts many racial and ethnic minority populations. The following information provides resources, including for people that may be impacted by suicidal thoughts and for those that care for them. Please join me in learning more about how we can support those in most need and disseminate these tools to others so that we can succeed in our Zero Suicide Initiative work together."
Question. Persuade. Refer.
We at Community Care understand the COVID-19 crisis has touched all of us in one way or another; from social distancing, to working from home, and dealing with losses. As a result, many may be experiencing fear, anxiety, loneliness, financial problems, and grief. These stressors can negatively impact our mental health, minority populations are at the greatest risk. Some may also be struggling with thoughts of suicide. As part of our Zero Suicide Initiative, it seems an appropriate time to remind ourselves of the principles of QPR.
Question: Ask the person if they are considering suicide. Remember- How you ask the question is less important than that you ask it.
Persuade: Persuade the person to get help. Your willingness to listen and to help can rekindle hope and make all the difference.
Refer: Stay with the person and connect them to help. Almost all efforts to persuade someone to live instead of attempt suicide will be met with agreement and relief, don't hesitate to get involved or take the lead.
QPR can be used with anyone from our members, to family, friends, co-workers or others in the community. Minority Mental Health Awareness Month is a reminder to initiate dialogue with minority populations, as this is an especially fraught time. If you suspect someone is struggling, you could be that window of hope.
Identifying Risk Factors
In her TED Talk, How Childhood Trauma Affects Health Across a Lifetime, Dr. Nadine Burke-Harris, California's Surgeon General, said:
"Today, we are beginning to understand how to interrupt the progression from early adversity to disease and early death, and 30 years from now, the child who has a high ACE [Adverse Childhood Experiences] score and whose behavioral symptoms go unrecognized, whose asthma management is not connected, and who goes on to develop high blood pressure and early heart disease or cancer will be just as anomalous as a six-month mortality from HIV/AIDS. People will look at that situation and say, "What the heck happened there?" This is treatable. This is beatable. The single most important thing that we need today is the courage to look this problem in the face and say, this is real and this is all of us. I believe that we are the movement."
Stories of Hope and Recovery
Resilient and brave minority voices are coming forward and telling their stories. The National Suicide Prevention Lifeline's Stories of Hope and Recovery are proof that recovery is possible. Here are three powerful voices:
Resources
American Foundation for Suicide Prevention's Minority Mental Health Awareness Month page - Visit to learn about events, voices in mental health, find interesting graphics, and discover more resources and programs.
Trevor Project